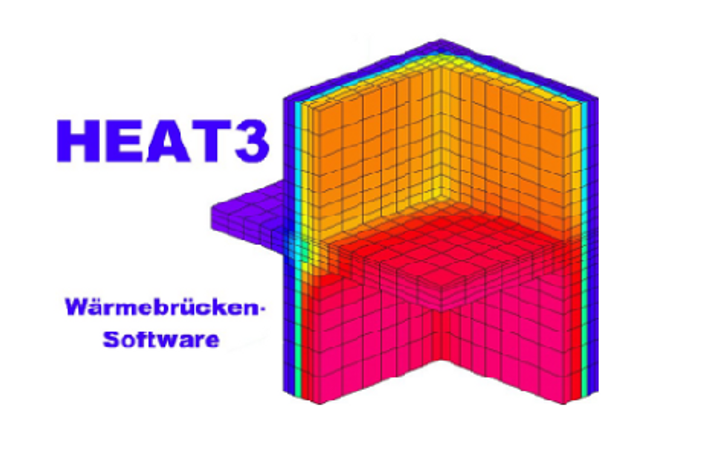 Heat3 Modelling
As building codes across North America gradually tighten requirements on the building envelope performance, the importance of mitigating thermal bridging is increasing. For instance, in the soon to be released update to the National Energy Code for Buildings (NECB), the thermal bridge effect of structural penetrations, shelf angles, anchors, and ties, among other elements, can no longer be ignored.
Heat3 is a 3D thermal modelling tool that lets users calculate the impact of 3D thermal bridges. The tool is gradually becoming the standard tool used for calculating thermal will thus be an invaluable tool for building energy modellers and envelope consultants to understand. For more information on Heat3: https://buildingphysics.com/heat3-3/
In this 6 week online course, participants will learn the fundamentals of thermal bridging calculations. Common 2D and 3D details and their modelling conventions will be examined. Modelling techniques will be taught using Heat3.
Learning Objectives:
Gain better understanding of heat loss in buildings due to thermal bridging
Understand what comprises a high quality junction detail
Assess degree of thermal bridging in a junction qualitatively
Learn basic commands in the steady state numerical analysis software Heat3
Create 2D and 3D thermal models of junction details
Set up the steady state models to output correct results
Calculate heat flows in Heat3
Analyse the calculation results to ensure accuracy
Learn and apply correct thermal bridging modelling conventions
Quantify the degree of thermal bridging at junctions
Gain practical experience in the calculation of thermal bridging heat loss
Account for thermal bridging in building energy modelling software
Intended Audience:
Building energy modellers, building envelope consultants, engineers, architects and other building professionals that wish to understand and quantify thermal bridging.

Prerequisites: Participants must have a familiarity with Excel and basic building heat loss calculations.
Peel Passive House is an official training partner of BLOCON. Participants who take our course are eligible for a 20% discount on the Heat3 software.

Course Requirements: Laptop with Heat3 v8.0 (or newer) preloaded; MS Excel (or equivalent); calculator, pencil and notepad for sketching.
Schedule:The course is structured into 2 sessions over the course of 6 weeks. Each session requires about 8-10 hours of commitment. You are invited to complete the sessions at your own pace but it is recommended to keep a schedule of 3 weeks per session. Access to the online platform will begin upon enrollment and will end 6 weeks after, however, all student resources including lecture slides will be available for download for future reference.The course is currently open for continuous enrollment.
Further Education Training: The Heat3 is recognized by PHI as further education training for Certified Passive House Designers/Consultants with 16 CPs under the ID: K114-2018-CA. If you require a confirmation of completion please email: [email protected]
See: https://service.passivehouse.com/en/profis//advanc..
iPHA affiliated members discount: A 10% discount is available for iPHA affiliated members. Please email: [email protected] for coupon code.
Testimonial: The heat3 training session provided by Andrew Peel to our group of technical specialists was well organized, thorough, and directly focused to our practice. Andrew exceeded our expectations and we look forward to working with him again in the future.
--- Kevin Pickwick, Read Jones Christoffersen
Testimonials
"Andrew's training in Heat3 provided our firm with a strong knowledge base of the software and its capabilities. He took this one step further by walking through real time examples of 3D thermal bridges; allowing us to familiarize ourselves with the software's intricacies that we now work with on a day-to-day basis. Andrew's knowledge of thermal bridge modeling is first-rate, and I highly recommmend him to anyone interested in his training courses."
--- Dylan Martello, Stephen Winter Associates, Inc.
"The Heat 3 training course provided by Peel Passive House was very well presented and organized. The lessons were all supported with hands-on exercises that helped to ensure that I was able to apply what I had learned. The student resources provided by Peel Passive House included a number of files that will be very useful to me going forward."
--- Jennifer Hogan, Pretium Anderson
"Course was well structured, logically sequenced in terms of thermal bridging principles and a palatable introduction to 3D modelling. Good balance of coursework with hands-on exercises, making it much easier to grasp the detailed concepts and software nuances."
--- Alice Gibson, Kearns Mancini Architects
"Andrew was a very thorough instructor which is required for this type of intensive course. The provided course material can be easily followed. He was able to provide all technical answers to student questions. I would not think twice about using Andrew again for the other tutorials Peel Passive House Consulting offers."

--- Cory Brun, EXP

Your Instructor

Andrew is a seasoned Passive House trainer, consultant, and building certifier accredited by the German Passive House Institute. His professional and academic experience ranges from consultancy, programme management, technical and non-technical articles and publications, course and lecture delivery, and technical research. He has been delivering high quality educational courses for over 22 years, including 13 years of PH training, both for Passive House Canada and independently.
Andrew has a tremendous depth of knowledge and experience in building energy performance and technology assessment and modelling. This includes managing the UK Government's innovative carbon saving technologies scheme and the Energy Saving Trust's Best Practice Helpline. He also had the good fortune of working at the Passive House Institute, developing algorithms for the PHPP.
Andrew is a former founding board member of Passive House Canada and tireless, passionate advocate for Passive House.

Course Curriculum
Section 1
Available in days
days after you enroll
Section 2
Available in days
days after you enroll